Block Party for Rogue Creamery's 90's Birthday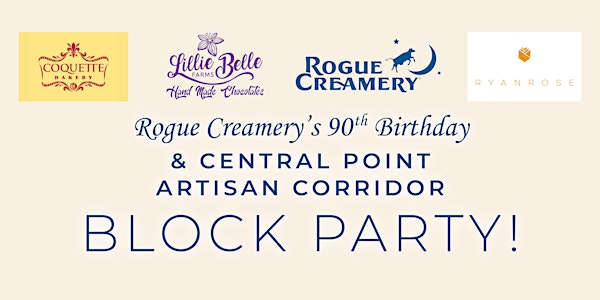 Rogue Creamery is celebrating 90 years of artisan cheesemaking, and YOU'RE INVITED to join in on the fun!
Kick off our Celebration Weekend by joining us and our partners at the Central Point Artisan Corridor. We'll toast to the end of summer and our vibrant community here in Southern Oregon. Live music, outdoor seating, raffle prizes, and snacks & sips from all four establishments.
Anyone and everyone is invited to celebrate! While there will be a limited number of tickets available for purchase at the door, buy your tickets
ahead of time to secure your spot. Tickets must be purchased to enjoy snacks and pairings. Buy tickets through the link below!
Block Party for Rogue Creamery's 90's...
Date and Time
Friday Sep 22, 2023
5:30 PM - 8:30 PM PDT
Friday, September 22nd
Starts at 5:30pm
Location
Rogue Creamery
311 N Front Street
Central Point, OR 97502
Website